<! http://www.parsons1964.com/images/graphics/z1646jackkirkpatricwestjrhigh.jpg copied: articlecopied:YES>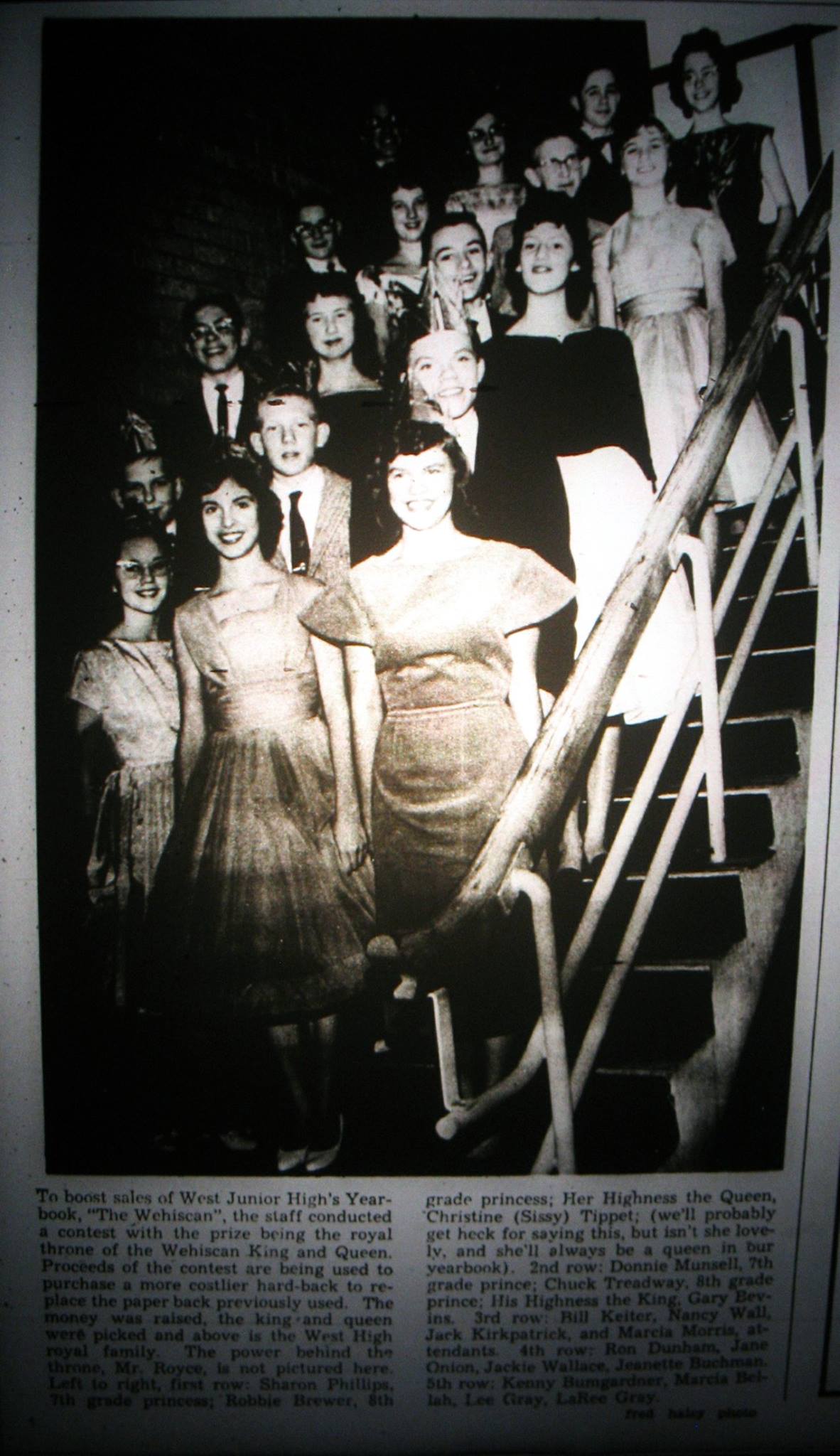 #93 JACK KIRKPATRICK ROBBIE BREWER MARCIA MORRIS JACKIE WALLACE
There is Jackie Kirkpatrick between Nancy Wall & his girlfriend Marsha Morris dressed in black holding the white coat. L to R, the front row looks like Sharon Phillips, Robbie Brewer, & Christine Tippet.

JACK KIRKPATRICK ----- DECEASED - JACKIE WAS A PILOT FLYING 2 CHILDREN AROUND THE STATE FOR AN OKLAHOMA STATE REPRESENTATIVE DURING A POLITICAL CAMPAIGN. HE TOOK OFF IN A STORM IN THE DARK, AND WASN'T EXPERIENCED AT FLYING AT NIGHT WITH INSTRUMENTS. HE BECAME DISORIENTED AND FLEW THE PLANE INTO THE GROUND.

WEST JR. HIGH THRU 9th GRADE - DERBY KANSAS HIGH SCHOOL - JACKIE PLAYED FOOTBALL & GOLF AT COFFEYVILLE JR. COLLEGE - 4 YEAR COLLEGE ? FIRST BAPTIST CHURCH BROKEN ARROW, OKLAHOMA - JOHNNY LINDEN'S NEXT DOOR NEIGHBOR. MY FOLKS HAD A CABIN ON THE RIVER RIGHT NEXT TO LESLIE LARUE'S DAD'S CABIN. JACK KIRKPATRICK & I BUILT A TREE HOUSE WAY UP HIGH IN THIS BIG TREE BEHIND THE CABIN.

JACKIE AND I USED TO PITCH BASEBALL AGAINST EACH OTHER AND PITCHER JIM BUSH & PITCHER DOUG MOSES IN PEE WEE BASEBALL.

JIM NICHOLS, JACKIE & I PLAYED BASKETBALL TOGETHER AT WEST JR. HIGH AGAINST GORDON PIPER, DOUG JONES RICK SMITH & ROBERT HICKERSON FROM EAST JR. HIGH & WE BEAT EAST IN THE JR. HIGH BB TOURNAMENT AT INDEPENDENCE. I SCORED EXACTLY HALF OF WEST JR. HIGH'S POINTS IN THAT GAME. EAST JR. HIGH BB COACH JOE MARTIN WASN'T VERY HAPPY, EVEN THOUGH HE WAS THE WEST JR HIGH FOOTBALL COACH.

YOU CAN SEE A PICTURE OF ME, JOHNNY LINDEN FROM WEST BATTLING GORDON PIPER AND ROBERT HICKERSON FROM EAST FOR A REBOUND ABOVE IN PICTURE #61.

JACKIE WALLACE BEHIND MARCIA MORRIS.
BOTTOM FRONT ROW, 3 BEAUTIFUL GIRLS WITH ROBBIE BREWER, 1st RUNNER UP TO JANE BAIR 1968 MISS KANSAS FROM PARSONS BETWEEN SHARON PHILLIPS AUSTIN AND CHRISTINE TIPPET.
GO BACK