<! http://www.parsons1964.com/images/graphics/z2796johnnyscousins3119.jpg copied: articlecopied:YES>

#7 JOHNNY'S COUSINS Dr. Sandra Willsie 8-18-53 to 3-26-17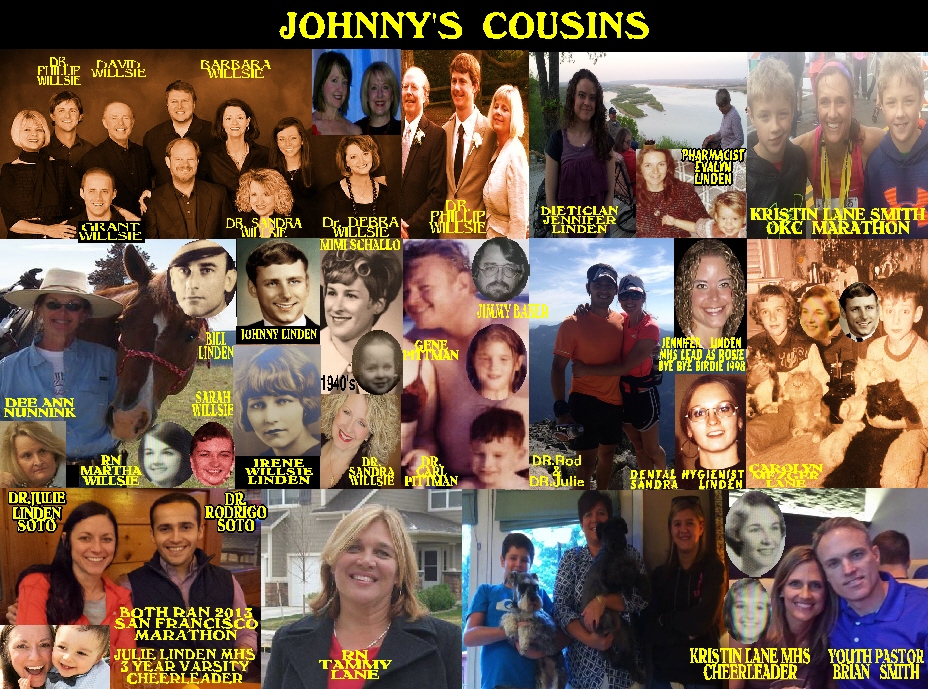 FAR RIGHT, JOHNNY'S COUSINS PICTURE #7, PAGE 2,
CAROLYN MEZGER LANE'S MOTHER VIOLA WILLSIE MEZGER WAS A SENIOR IN 1923 ON THE PARSONS VIKINGS GIRLS BASKETBALL TEAM. HER BROTHER ADELBERT PLAYED PARSONS VIKINGS BASKETBALL.

Dr. Sandra K. Willsie 8-18-53 to 3-26-17

passed peacefully to heaven surrounded by family and dear friends on Sunday, March 26, 2017, after a courageous and nearly yearlong battle with brain cancer.

She was preceded in death by her parents, Dr. Fillmore and Cecilia Willsie; and a brother, Philip.

Survivors include her husband, Thomas Syverson of Overland Park; three siblings, David Willsie of Lincoln, Nebraska, Dr. Debra Willsie-Daggett of Overland Park and Barbara Willsie-Hess of Wichita; a niece, Emily Daggett of Overland Park; two nephews, Grant Willsie of Omaha, Nebraska, and Dr. Philip Willsie of Wilmington, Delaware; and two great-nephews, Mac and Harvey Willsie of Wilmington, Delaware.

Sandra graduated magna cum laude from Pittsburg State University with a bachelor's degree in medical technology, biology and chemistry. She attended Kansas City University of Osteopathic Medicine, graduating magna cum laude, and received the Golden Stethoscope Award for Outstanding Graduate.

As an osteopathic physician, with board certification in internal medicine, pulmonary diseases and critical care medicine, Sandra worked diligently for over 30 years to further scientific discovery and health care education. A National Institutes of Health-funded career academic awardee, a Macy Institute scholar and an invited faculty member on health care leadership at Harvard University, Sandra was very involved in academic medicine. She served as professor of medicine, interim chair of medicine and docent at the University of Missouri–Kansas City School of Medicine and as provost, dean, vice dean and department chair at Kansas City University of Osteopathic Medicine.

Sandra earned a master's degree in bioethics and health policy focusing on research ethics from Loyola University of Chicago Stritch School of Medicine. She made countless scholarly presentations and published regularly with active participation as a board member of the American College of Chest Physicians. Sandra once said "when you can't breathe, nothing much else matters," and in her persuasive way, she was instrumental in the creation and financial recruitment for the establishment of the Chest Foundation, for which she later served as a board member. Today the Chest Foundation continues providing grants around the world to fight respiratory diseases.

Sandra made eight pro bono trips to provide physicians in Honduras, Panama, Costa Rica and the Dominican Republic the latest research updates on asthma and chronic obstructive pulmonary disease research. Sandra was honored to serve as president of Women Executives in Science and Healthcare and as board president of the American Heart Association's Midwest Affiliate (greater Kansas City area), where her primary focus was on fundraising for the Go Red for Women Initiative and the launching of the Circle of Red Initiative.

In the corporate world Sandra served as medical director, principal investigator and a system-wide chair responsible for global harmonization of medical safety practices and policies. At the time of her diagnosis, Dr. Willsie had been volunteering for over 30 years at the KC CARE Clinic in downtown Kansas City, Missouri, and was a committee member of the Food and Drug Administration advisory panel on respiratory and anesthesiology devices.

As stated by one close friend, "Sandra was an amazing woman, selfless leader, gifted doctor, generous healer and respected scholar who made a difference in the lives of so many. She inspired a generation of new physicians to be and do more by following her example of excellence and integrity."

Sandra was born Aug. 18, 1953, in Parsons, Kansas and growing up there, she never forgot her small town roots or Christian values. She was a dutiful daughter and awesome sister who never stopped looking out for her family; as an aunt, she thought and cared for her nephews and niece as if they were her own. Sandra and her husband, Tom, loved their two bichon dogs, Minnie and Mojo, and traveled often. One of her most favorite trips was to the Holy Land, organized by Church of the Resurrection and led by pastor Adam Hamilton.

For those who knew her, Sandra was compassionate and loving and always went out of her way to make the downhearted smile and feel included. Her energy and enthusiasm touched many as she loved to laugh and encouraged others to follow their dreams. Sandra's legacy simply stated was to treat others as you would want to be treated. We were blessed to have known her, and she will be missed by many, especially her family who are comforted by their faith in knowing Sandra is now home at peace and with our Lord, Jesus Christ.

The memorial service will be at 4 p.m. Saturday in Wesley Chapel at Church of the Resurrection, 13720 Roe, Leawood, with a reception immediately following.

The family requests in lieu of flowers, donations be made in Sandra's memory to the KC CARE Clinic, attention Sheridan Wood, CEO, 3515 Broadway, Kansas City, MO 64111.

See Franks picture on P4, Pic #75

Frank Guerico Little

October 28, 1943 - July 23, 2018

He was born October 28, 1943, at Champaign, IL, to Dino Spigarelli and Josephine R. Walche. He was raised by Homer and Josephine F. Little.
Frank graduated from Shawnee Mission East High School in 1961. After high school he graduated from Pittsburg State University with a bachelor's degree. On May 27, 1967, Frank enlisted in the United State Air Force. He served in Vietnam and received several military commendations. He was honorably discharged in 1979.
On June 11, 1966, he was united in marriage to Mary "Mimi" Schallo. She survives of the home.
In addition to his wife Mimi, he is survived by a son, Linden Little of Pittsburg, KS; two brothers, Rick Little and his wife Kim of rural Pittsburg, and Rob Little and his wife Sondra of DeLand, FL; a half-brother, Tony Spigarelli of Minnetonka, MN, half-sisters, Lisa and Jimmy Spigarelli of Leewood, KS, and Mary and her husband Magnus Toren of Big Sur, CA; and several nieces and nephews.
He was preceded in death by his parents, grandparents, an infant daughter and a niece.
Memorial Mass of Christian Burial will be at 2:00 p.m., Friday, July 27, 2018, at Our Lady of Lourdes Catholic Church, Pittsburg, with Father Jorge Lopez as Celebrant.
Private family interment will be at a later date. The rosary will be prayed at 6:00 p.m. Thursday at the funeral home with a visitation to follow until 7:30. The family suggests memorials to the Wounded Warriors Foundation and/or Our Lady of Lourdes Memorial Fund. These may be left at or mailed to the Brenner Mortuary, 114 East 4th St., Pittsburg, KS 66762.
Friends may also leave condolences online at www.brennermortuary.com.

GO BACK