<! http://www.parsons1964.com/images/graphics/z16335remoteswitches.jpg copied: articlecopied:YES>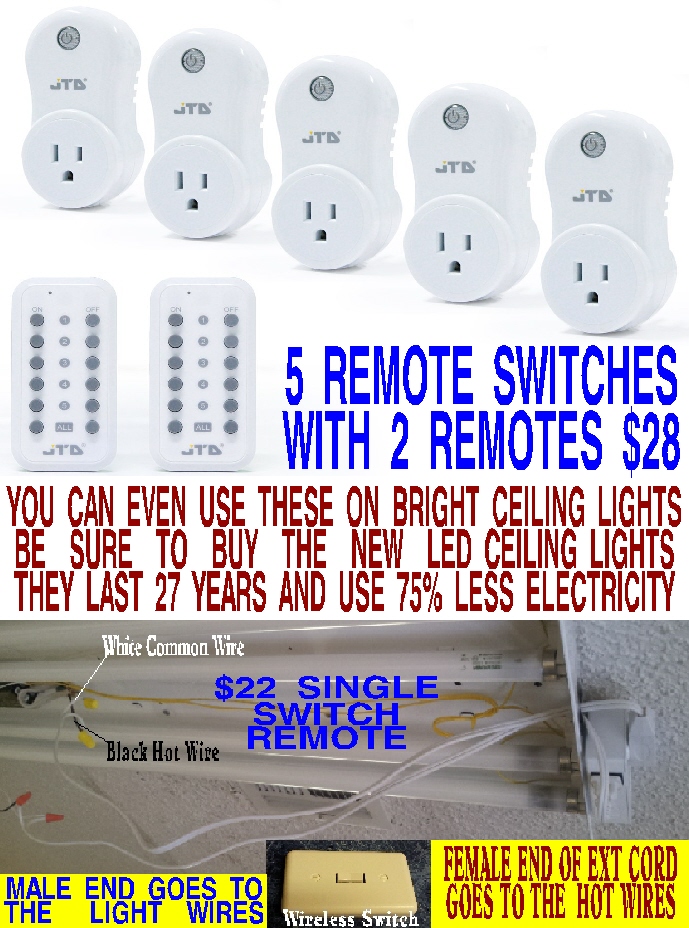 #5 37 BRILLIANT HOME REPAIR TRICKS & WIRELESS REMOTE LIGHT SWITCH FOR 5 DIFFERENT ROOMS WITH 2 REMOTES ONLY $30 WITH 2 DAY FREE SHIPPING FROM AMAZON PRIME. EVERYONE NEEDS ONE OF THESE. THEY'RE AWESOME.
37 TOTALLY BRILLIANT HOME REPAIR TRICKS
60% longer range than all other models, 3rd generation, 100 feet range, 5 switches, 2 remotes $30
except this 330 ft range 3 black switches, 1 remote, all on/off switch, $30. IF USING ONE OF THE SWITCHES OUTDOORS, BE SURE AND MOUNT THE REMOTE SWITCH INSIDE A WEATHER PROOF BOX. YOU CAN USE A SMALL PLASTIC TOOL BOX FOR ONLY $3 OR, JUST PLUG THE WIRE GOING TO AN OUTSIDE LIGHT TO AN OUTLET THAT'S INSIDE THE HOUSE, WITH ONE OF THE 5 REMOTE CONTROLED SWITCHES.
CONTROL 5 DIFFERENT LIGHTS WITH A FABULOUS REMOTE CONTROL LIGHT SWITCH, SO YOU DON'T HAVE TO RUN ALL OVER THE ROOM/HOUSE TO TURN LIGHTS ON & OFF. YOU GOTTA HAVE ONE OF THESE WIRELESS REMOTE CONTROLS TO TURN ON & OFF ANY LIGHT OR APPLIANCE. IT'S REALLY NEAT & EASY TO INSTALL ON YOUR BIG FLORESCENT CEILING LIGHTS, OR ANY LAMP. THEN YOU DON'T HAVE TO GET UP & RUN BACK & FORTH ACROSS THE ROOM EVERY TIME YOU WANT TO TURN THE LIGHT ON & OFF.

TOOLS YOU'LL NEED ARE IF HOOKING UP CEILING LIGHTS:

WHITE 6 FOOT EXTENSION CORD
WIRE STRIPPERS
2 EXTRA WIRE NUTS
WHITE VELCRO
FLAT SCREW DRIVER.
PLIERS
SCISSORS

1. TURN THE ELECTRICITY OFF. THIS IS VERY EASY, JUST TURN THE LIGHT OFF AT THE WALL SWITCH. IF THERE IS NO WALL SWITCH LIKE ON CEILING FANS, TURN IT OFF AT THE BREAKER BOX.

2. ON A CEILING LIGHT, TAKE THE PLASTIC COVER OFF THE BULBS.

3. TAKE THE METAL CENTER COVER OFF TO GET TO THE WIRING.

4. TAKE THE PLIERS TO OPEN A HOLE BY REMOVING THE KNOCK OUT ON THE END OF THE LIGHT CLOSEST TO WHERE THE HOT WIRE COMES IN.

5. CUT THE EXTENSION CORD IN HALF, STRIP THE ENDS OF THE WIRE.

6. SLIP THE HALF OF THE EXTENSION CORD WITH THE FEMALE END, THROUGH THE KNOCKOUT, LEAVING THE PLUGIN ON THE OUTSIDE OF THE LIGHT.

7. DISCONNECT THE HOT WIRES FROM THE LIGHT. TAKE THE BLACK HOT WIRE COMING IN THROUGH THE CEILING & CONNECT IT WITH A WIRE NUT TO THE EXTENSION CORD WIRE THAT GOES TO THE SMALL PLUG HOLE. CONNECT THE WHITE NETURAL WIRE TO THE EXTENSION CORD WIRE THAT GOES TO THE BIG PLUG HOLE.

8. SLIP THE MALE END OF THE EXTENSION CORD THROUGH THE KNOCKOUT, & CONNECT IT TO THE WIRES GOING TO THE LIGHT. THE HOT WIRE IN THE EXT. CORD IS THE SMOOTH WIRE WITH THE LITTLE PRONG PLUG. THE COMMON WIRE IS THE ROUGH WIRE WITH LINES, THAT GOES TO THE BIG PRONG ON THE PLUG.

9. CUT THE 2 IN. WIDE VELCRO 3 & 1/2 INS. LONG. WITH THE VELCRO STILL STUCK TOGETHER, PEEL THE PLASTIC OFF ONE SIDE OF THE VELCRO & STICK THE VELCRO ON THE BACK SIDE OF THE BIG CONTROL BOX. PEEL THE PLASTIC OFF THE OTHER SIDE OF THE VELCRO & STICK IT NEXT TO THE KNOCKOUT, ON THE OUTSIDE OF THE END OF THE LIGHT, AS SHOWN IN THE PICTURE.

10. PLUG THE CONTROL BOX INTO THE FEMALE END OF THE EXTENSION CORD & PLUG THE MALE END OF THE EXTENSION CORD INTO THE CONTROL BOX.

11. TURN THE ELECTRICITY BACK ON AT THE WALL SWITCH & OR BREAKER. PUSH ON THE ROMOTE CONTROL NUMBER 1 THRU 5, WHICH EVER NUMBER YOU ASSIGNED TO THIS LIGHT & YOUR LIGHT SHOULD TURN ON & OFF.

12. PUT THE METAL COVER BACK OVER ALL THE WIRES & PUT YOUR PLASTIC COVER BACK OVER THE BULBS.

EVEN CONVERT YOUR OLD FLORESCENT LIGHT BULBS TO ULTRA BRIGHT LED BULBS FOR $8 TO $10 PER BULB THAT LASTS 27 YEARS AND SAVE 75% ON ELECTRICITY.


MANY COLORS OF LEATHER WALLETS ON AMAZON $13

-----------------------------------------------------------------------------------------------------------------
YOU'LL NEVER LOSE YOUR BILLFOLD AGAIN. ORDER YOUR DOG LEASHES HERE ON AMAZON FOR $4.79 OR BUY THEM AT WALMART.

FASTEN YOUR KEYS AND BILL FOLD TO YOUR BELT AND NEVER LOSE THEM AGAIN. BUY 2 SMALL DOG LEASHES LIKE THIS ONE IN THIS LINK, THAT ARE 3/8 in. x 6 ft. CUT ONE STRAP FOR YOUR BILLFOLD 30" LONG FROM THE END WITH THE BIG HAND LOOP. FROM THE OPEN END OF THE METAL SNAP, CUT BACK 10". DISCARD THE SCRAP BETWEEN YOUR 2 CUTS. OVER LAP YOUR 2 CUT ENDS ABOUT 1" IN OPPOSITE DIRECTIONS AND SEW TOGETHER.
HOLD YOUR BILLFOLD IN THE HAND YOU GRAB IT WITH OUT OF YOUR BACK POCKET WITH THE SNAP AND
OPENING FLAP FACING UP. PUSH A METAL COAT HANGER THRU THE FOLD IN THE THE BOTTOM OF YOUR BILLFOLD MOVING TOWARDS YOU. PULL THE LOOP END BACK THRU THE BILLFOLD PLUS AN EXTRA 8 " TO WRAP AROUND THE BILLFOLD. FEED THE CLIP END THRU THE BIG LOOP AND PULL OUT THE SLACK.
CLIP THE OPEN METAL CLIP AROUND THE LEASH AND FOLD A 3" LOOP TO GO OVER YOUR BELT.

------------------------------------------------------------------------------------------------------------------
TO NEVER LOSE YOUR KEYS AGAIN, TAKE ANOTHER LEASH AND CUT IT ABOUT 33 IN. FROM THE OPEN END OF THE METAL CLIP OR SHORTER FOR A SHORT PERSON, SO THE KEYS DON'T DRAG THE GROUND. FOLD OVER 3 IN. ON THE CUT END & SEW A 2 & 1/2 IN. BELT LOOP IN THE END OPPOSITE THE CLIP. SLIDE THE LOOP ONTO YOUR BELT. CLICK HERE TO ORDER KEY RINGS AND CLIPS TO CLIP THEM ON YOUR 2 & 1/2 " BELT LOOP TO CARRY YOUR KEYS. SNAP YOUR KEY RING ONTO THE OPEN END OF THE LEASH'S METAL CLIP AND SNAP YOUR BIG SNAP THAT CAME WITH THE KEY RING AROUND YOUR LOOP OVER YOUR BELT WHEN NOT USING YOUR KEYS AND YOU WON'T EVER LOCK YOUR KEYS INSIDE YOUR CAR AGAIN.

3 CARABINER CLIPS & 3 KEY RINGS FOR YOUR CAR KEYS $5.99.

#12 Liquid Glitter BLUE/PURPLE Cell Phone Case Kickstand for LG Stylo 5 / Stylo 5 Plus Case Clear Bling Diamond Bumper Ring Stand $12

EXTRA LARGE CELL PHONE HOLSTER AT AMAZON



GO BACK