<! http://www.parsons1964.com/images/graphics/z3162.jpg copied: articlecopied:YES>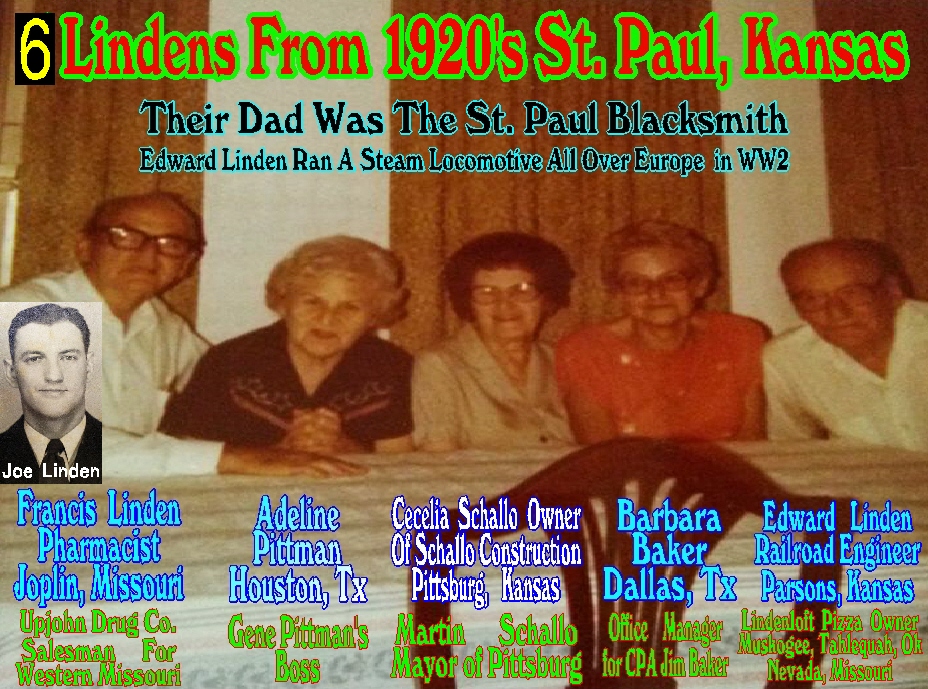 #28 SIX LINDENS, FROM ST. PAUL, KS. 1925 JOE, FRANCIS, ADELINE, CECELIA, BARBARA, & EDWARD
Ray Conniff - Marianne (with lyrics)
Mary Ann Regrets - Burl Ives
FRANCIS LINDEN, JOPLIN, MISSOURI - ADELINE PITTMAN, HOUSTON, TEXAS - CECILIA, SCHALLO, PITTSBURG, KANSAS - BARBARA BAKER, DALLAS TEXAS - EDWARD LINDEN, PARSONS, KANSAS. FRANCIS LINDEN, TOP LEFT, WAS A PHARMACIST & DRUG SALESMAN FOR UPJOHN DRUG CO. OUT OF JOPLIN, MISSOURI.

EDWARD LINDEN WAS AN ENGINEER ON THE KATY RAILROAD FOR 40 YEARS AND RAN A STEAM ENGINE ALL OVER EUROPE FOR THE ARMY IN WORLD WAR 2.

2017 Parsons Katy Days video celebration.
GO BACK